Organic fertilizers consist of various types of nutrients. Each of them with their own added value for the soil and the crop or plant growing on it. In a series of five articles we will outline the different nutrients in organic fertilizers. We will explain what they mean for the soil and the plant. In short, the content of organic fertilizers in clear language.   
In this first part we start with organic matter. What is organic matter and why is it so important for the soil?
What is organic matter?
Organic matter is easily degradable organic material such as plant residues, manure, compost but also residues of soil life. Organic matter is crucial for both soil and soil life in order to survive. In other words, organic matter is crucial for a health soil and it's the soil that we need in order to breed healthy crops. A healthy soil contains water, air, nutrients and a various soil life. So in order to breed crops at the field or to let plants grow in a garden it's all about keeping the soil healthy. Find out more about soils in general.
It comes down to: rich soil life -> good soil quality -> better yields of crops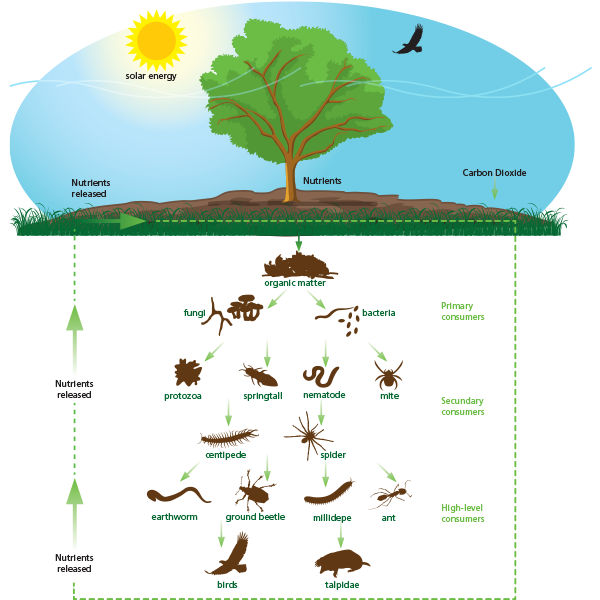 The content of organic matter
Organic matter has its origins in plant remains and soil life. In addition to a lot of carbon organic matter contains minerals such as nitrogen, phosphorus and sulfur. These become available after degradation of organic matter in the soil and is called mineralization. The breakdown of organic matter and mineralization are two important processes where soil life is indispensable. Soil life can be split into small soil life (bacteria and fungi for example) and large soil life (such as insects and worms).
The functions of organic matter
Organic matter has various purpoes. Itn the soil it takes care of: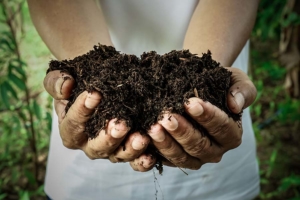 Airy soil structure; making it easier for plants to root deeper.
Balanced soil life; very important since soil life also ensures the structure of the soil, the water balance and oxygen in the soil.
Higher soil fertility; plants and crops can only grow on fertile soil.
Increasing the moisture retention capacity of the soil.
Promotion of the workability of the soil.
How do you get more organic matter into the soil
We can conclude that it is important to maintain soil and soil life and therefore the regular supply of fresh organic material is necessary. The supply of organic material is possible in various forms and the organic fertilizer (fertilizer pellets) from Komeco is one of them. Our organic fertilizers are 100% organically and organically composted. Composting produces a fertilizer with homogeneous nutritional values, a large amount of stable organic matter and a high moisture-absorbing capacity. In addition, composting ensures a completely weed-free and almost odourless product. After composting, we turn it into a grain and this is how our organic fertilizer or organic fertilizer grain is created. The fertilizer granules can be used flexibly, because they are suitable for any type of soil, to spread out in any season and to spread them easily via a fertilizer spreader. We offer three types of fertilizer; FERTISOL organic fertilizer pellets, Komeco organic fertilizer cow and Komeco bio fertilizer pellets.
Organic fertilizers keep the soil healthy, soil life alive and contribute to a nutritious world!
Organic fertilizers for agricultural professionals
Adding organic matter to the soil is important, but the added value varies per soil type. Read more about soil nutrition here and for professional use in agriculture, horticulture and fruit and vegetable cultivation, we recommend that you look at what your soil needs with a fertilizer advisor.
https://www.komeco.nl/Komeco/uploads/2020/02/part-1-nutrients-in-organic-fertilizers-www.png
300
800
Liesbeth Broekhuizen
https://www.komeco.nl/Komeco/uploads/2019/04/Logo_Komeco_Flevoland_Holland_A-richer-soil-starts-with-Komeco-2.png
Liesbeth Broekhuizen
2020-02-20 11:12:09
2021-04-02 09:10:17
Organic matter; one of the nutrients in organic fertilizers (part 1)