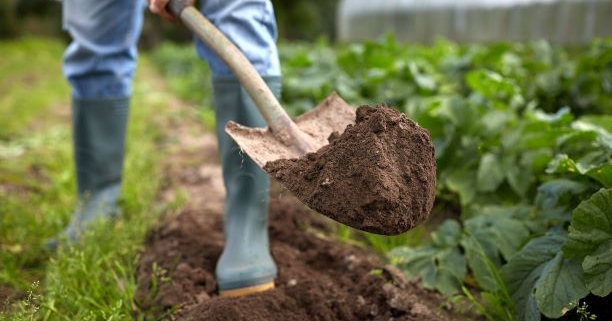 How do you maintain the garden in a sustainable way? With Komeco's tips for sustainable garden maintenance you create a healthy basis for the soil on which plants can grow well.
A healthy soil is the right foundation
A good foundation is needed to create a beautiful garden. A good foundation means a healthy, fertile soil with an airy structure. Plants, grass, vegetables and flowers grow best on a healthy soil. Therefore, use the following tips for realizing a healthy soil:
Routine maintenance in Spring: remove the leaves and start removing weeds. Especially in the beginning it is important to keep the growth of weeds under control. You and the garden will benefit from this as the season progresses.
Fertilizing: fertilizing plants and flowers works best in the spring. Provide the soil with organic fertilizer or compost. For the lawn we advise to fertilize in both spring and autumn.
Fertilizing means feeding the soil
Why do we fertilize the land, the soil in the greenhouse and the garden? Because by supplying manure or fertilizers you provide nourishment to the soil and soil life and you ensure that the plant or crop can grow better on it. Feeding the soil contributes to a better growth of the plants and vegetables.
What is sustainable garden maintenance?
Fertilizing the garden can be done in various ways, but if you want to maintain the garden in a sustainable way, we advise to choose for fertilizing with organic fertilizers. As the name implies, organic, this fertilizer is a natural product and the soil thrives on it. Organic fertilizers contain high levels of organic matter, nitrogen, phosphate, potassium and other elements such as magnesium, calcium and various trace elements. All the mentioned nutrients contribute to the maintenance of the soil and ensure that the soil is nourished and remains fertile.
Organic fertilizers are not only natural, but in the case of Komeco also free from weed(seeds) and germs and the water-absorbing capacity of the fertilizer is high. The nutrients are released slowly and as a result the soil benefits from the nutrients for a longer period.
Choose FERTISOL or Komeco COW and provide your garden with the best organic fertilizer.
How much organic fertilizer to use in the garden?
Komeco has a handy table what you can consult in order to see how many fertilizer you need to spread. Depending on what you want to fertilize we advise to fertilize when you expect rain. After the application moisture ensures that the fertilizer flows well over the soil. Komeco's organic fertilizers can easily be spread by hand or use a spreader.
https://www.komeco.nl/Komeco/uploads/2020/04/tuin_onderhoud_bemesten_koemestkorrels.jpg
408
612
Liesbeth Broekhuizen
https://www.komeco.nl/Komeco/uploads/2019/04/Logo_Komeco_Flevoland_Holland_A-richer-soil-starts-with-Komeco-2.png
Liesbeth Broekhuizen
2022-03-28 13:09:29
2022-03-28 14:31:49
Gardening tips for sustainable garden maintenance