The technique behind our products
The organic fertilizers of Komeco are 100% organic and biologically composted. But what is special about composting? What is the added value for our end product? How does it differ from dried organic fertilizers? In this article we explain how it works and what makes our organic fertilizers unique and outstanding.
Production of organic fertilizers
For the production of organic fertilizers we use animal manure as a raw material. We compost the raw material into an organic fertilizer using a biological composting technique. Together with parent company GICOM we have developed this composting technique. GICOM specialises in climate- and composting systems and has more than 30 years of experience in composting of, among others, residual products. At Komeco we turn the so called residual product into a valuable fertilizer that provides both soil and crops of the right nutrients.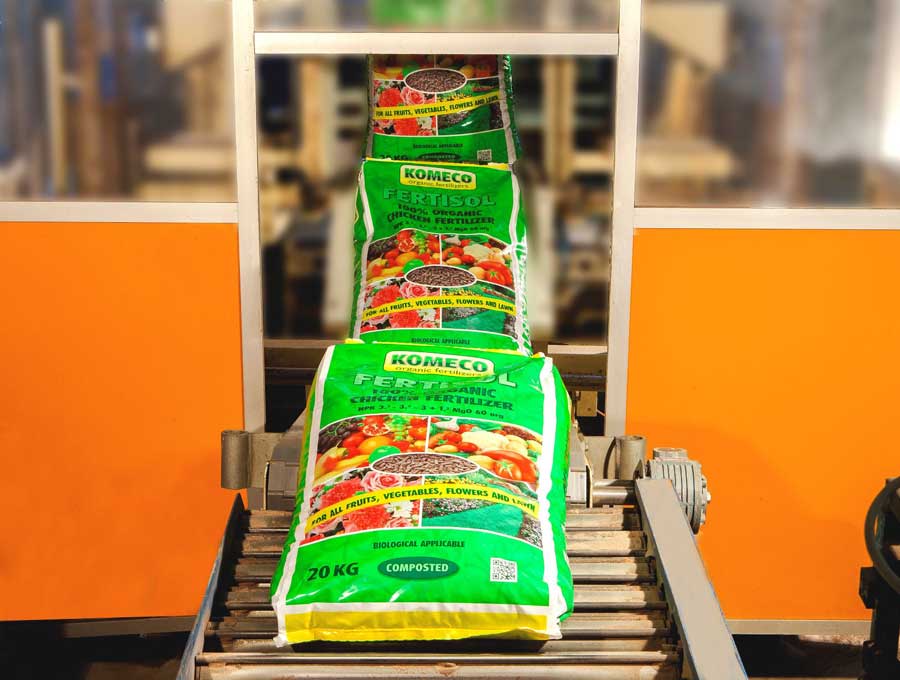 What is the added value of composting for our end product?
Composting actually provides added value to an organic fertilizer. We will list the benefits below:
Weed-free: By heating (60 ° C)  the raw materials for a longer period, the weed seeds, germs, unwanted fungi and bacteria are completely killed.
Small loss of nitrogen; during composting the nutrients remain intact and there is only a small loss of nitrogen.
No leaf or root burning: composting ensures ammonium to be converted into a more stable form of nitrogen. This nitrogen is released slowly, eliminating the risk of leaf or root burning.
High moisture-absorbing capacity: composting provides an organic fertilizer pellet with a high moisture-absorbing capacity which can absorb its own weight up to three times. A poor soil will quickly lose moisture (rain) because it washes away or evaporates. The pellets prevent water from being wasted because the pellet actually retains water. When applying the pellets the organic matter content in the soil will level. This prevents water wasting and thus the use of water.
Neutral odour: composting neutralises the odour and this results in an almost odourless end product.
Unlike composted organic fertilizers, there are also dried organic fertilizers.
What are the essential differences in composting versus drying techniques?
Unlike with drying, the structure of the material changes when the raw material has been composted. It makes the product easily soluble giving it a high moisture-absorbing capacity.
A composted fertilizer ensures a slow and stable release of nutrients, while a dried fertilizer ensures a less stable release.
The composting technique kills weed seeds, germs, unwanted fungi and bacteria completely, but nutrients will remain intact (like nitrogen). The drying process does not ensure the complete killing of bacteria and weed seeds.
The conversion of ammonium into a stable form of nitrogen occurs during composting, but not during a drying process. This means a risk of leaf or root burning when you apply dried fertilizers. In addition, a drying technique generally causes a larger loss of nitrogen during the process.
All products of Komeco are 100% natural and can be used in fruit cultivation, horticulture, agriculture and for home gardening. Find out more about our products for both professional use and private use. A richer soil starts with Komeco!
https://www.komeco.nl/Komeco/uploads/2019/10/fertisol-kippenmestkorrels-productie-lr-1.jpg
680
900
Liesbeth Broekhuizen
https://www.komeco.nl/Komeco/uploads/2019/04/Logo_Komeco_Flevoland_Holland_A-richer-soil-starts-with-Komeco-2.png
Liesbeth Broekhuizen
2019-08-09 09:10:40
2021-04-02 09:14:14
The technique behind our products